Alison Dobbins
Alison C. Dobbins is an Associate Professor of Integrated Performance Media Design at Michigan State University. She is a media designer focused on integrating elements of dance, media, music, theatre, medicine, and computer science in performance. Alison is the project director and creator of Dance Engine and Shark!: interdisciplinary projects focused on exploring audience engagement in performance through the use of mobile applications. Recent performances took place at the Rose Wagner Performance Center, Salt Lake City (October 2019), Science Gallery, Detroit (June 2019), and Edinburgh Fringe Festival (August 2015). Collaborators on this project are from MSU College of Engineering & Computer Science and College of Music, Brigham Young University, University of Oregon, and Georgia State University. Her recent theatrical projection design work includes projection design for Mitch Albom's Ernie and Hockey the Musical and world premieres at Williamston Theatre and Flint Repertory Theatre (where she is a resident associate artist).
Emily Huff
Dr. Emily S. Huff is an Assistant Professor at Michigan State University in the Department of Forestry. Dr. Huff earned her M.S in Natural Resources Science and Management from the University of Minnesota and her Ph.D. in Forestry from the University of Maine. She studies coupled human and natural systems in two ways: 1) integrating social and ecological data to predict the effects of human behavior on forest ecosystems and 2) measuring the influence of resource quality and availability on decision-making. Her past research includes a meta-analysis of private landowner timber harvesting behavior, a national assessment of female forest owner networks, and a decision model of private landowner behavior. Prior to joining the faculty at MSU, Dr. Huff worked for the USDA Forest Service's Northern Research Station as a Research Forester. Her current research projects include the use of real-time surveys to understand human-forest interactions and decisions, understanding the role of forests in urban resilience, and the development of an E-learning program in forest carbon.
Rebecca Schuiling
Rebecca E. Schuiling is a knitwear designer and an educator. Her research contributes to scholarship in dress studies and it subsumes visual and material culture. Rebecca's work seeks to provide insight and understanding into dress through the lens of popular culture, matriculture, and the artists at the intersection of art and craft, by examining the complex and complicated roles of knits and knitwear within fashion, art, and society. She presents her research at international and national conferences. Her work has been exhibited in Slovenia; she has participated in an international design workshop in China; and conducted research in Portugal, France, Italy, Austria, Australia, New Zealand, and Thailand. Rebecca Academic Specialist in the Apparel and Textile Design Program at Michigan State University. The focus of Rebecca's teaching centers on the concept, research, experiential learning, the design process, and LDL pedagogies.
Kori Wakamatsu
Kori Wakamatsu is an Associate Professor of Dance at Brigham Young University. Before entering higher education, she taught dance and drama in the Utah public school system. She received her MA in Dance from California State University, Long Beach; a Theatre Endorsement from the University of Utah; and a BA in Dance Education from Brigham Young University. She has been honored to work on many collaborative projects such as Thought of You, a dance and animation project with Ryan Woodward. She also collaborated on The Nightingale play with Julia Ashworth and received a grant to travel with students to study Beijing Opera. She co-created ON SITE mobile dance series with Kate Monson and Ashley Anderson, under the umbrella of the nonprofit organization loveDANCEmore. A recent collaboration includes Theatre Engine Company's Dance Engine, a technology-infused interactive production created by Alison Dobbins from Michigan State University. She has published in the Journal of Dance Education and Arts Education Policy Review.
Megan K Halpern
Dr. Megan K. Halpern is an Assistant Professor at Lyman Briggs College, at Michigan State University, and the inaugural Scholar-in-Residence at MSU's Center for Interdisciplinarity. Her research interests include art-science studies, interdisciplinary collaboration, public engagement with science, feminist approaches to science communication, and research through design. She teaches science communication and science and technology studies. She earned her Ph.D. in Science Communication at Cornell University and completed a Postdoctoral Research Fellowship at Arizona State University's Center for Nanotechnology and Society and Center for Science and the Imagination. Before earning her Ph.D., Dr. Halpern was a theatre artist and the co-founder and Artistic Director of Redshift Productions, a company that created performances inspired by science in collaboration with scientists.
Meg Heeres
Megan Heeres's art practice and professional endeavors have connected to a cooperative way of working with the community both inside and outside of the studio. These collaborations engage with place, people, art, and plants. She participates in projects locally in Detroit and nationally, most recently at Xenoform Labs in San Francisco and the Broad Art Lab at Michigan State University. Megan has been an artist-in-residence at the Hambidge Center for Creative Arts and Sciences, the Michele Schara Residency, the Ragdale Foundation, the Santa Fe Art Institute, and the Women's International Study Center.
Karen Jensen
Karen Jensen is an Adjunct Professor of Dance at Brigham Young University and Utah Valley University. . She completed her Ph.D. in Curriculum and Instruction at Texas Tech University in May 2021 with a focus on international education, international internships, and cross-cultural adaptation. Karen has taught dance for grades K-12 in the public and private sectors and in Ghana, Taiwan, and Costa Rica. She is the Founder of the Screendance Forum. Her dance and research interests include dance education, choreography, dance and film, dance and technology, international education, intercultural adaptation, and narrative inquiry.
Alexis Bacon
Alexis Bacon is a composer recognized nationally and internationally for both her acoustic and electroacoustic music. Her work draws inspiration from a diverse array of sound worlds, including vanishing American oral traditions, medieval Provençal poetry, Norwegian fiddle music, and Afro-Brazilian religious ceremonies. Throughout her career, she has won awards including the IAWM Search for New Music Pauline Oliveros Prize, the Ossia International Composition Prize, the ASCAP/SEAMUS student composition commission, and most recently an honorable mention in the 2018 Hildegard Competition. Her work has been supported by awards and grants from the Indiana Arts Council, the Percussive Arts Society, the American Music Center, and the American Society of Composers, Authors, and Publishers, and commissioned by ensembles and artists including National Sawdust, Burning River Baroque, Due East, the Bro-Fowler Duo, violinist Robert Simonds, and several commissioning consortiums comprising dozens of commissioners. In 2018 Alexis became the composer and Music Director for the interactive production "Shark: The Musical," which uses technology as a tool to facilitate audience interaction and was featured at the Detroit Science Gallery in 2019.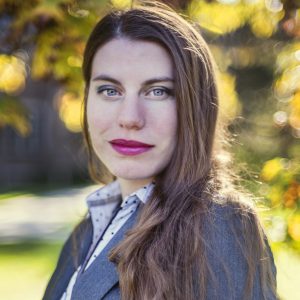 Stephanie Vasko
Dr. Vasko builds community and collaborative capacity among academic and blended academic/community research teams, develops and delivers philosophically-informed team-based workshops as part of the Toolbox Dialogue Initiative, and researches the application of machine learning to team science and to agricultural diseases. She currently serves on the Mayors Arts and Culture Council in Lansing, MI and was former AAAS Community Engagement Fellow. Dr. Vasko is also a practicing artist who works with clay and iron, takes inspiration from dynamic natural forms, and explores interactions of soft/hard/malleable/brittle in form, as well as the materials chemistry of surface transformations.

Daniel Trego